KoR Whitening Deep Bleaching System
Everyone loves the idea of a beautiful, bright white smile. Almost anyone you ask will tell you that they have tried some form of over-the-counter whitening or even a "professional" whitening system at some point in their lives and have gotten less-than-satisfactory results. Premier Dental Concepts of Andover is proud to offer the newest, most revolutionary and effective whitening system ever developed: KoR Whitening Deep Bleaching System.
What Sets KoR Whitening Apart?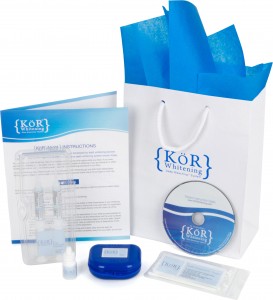 The KoR Whitening System works by restoring your teeth's youthful ability to absorb oxygen. The oxygen from its whitening gel is absorbed deeply into the tooth, dissolving and removing the stain molecules.
Unlike other whitening methods, with easy and periodic home maintenance, KoR Whitening is entirely permanent….even if you drink coffee, tea, or red wine!
KoR is the only whitening system in the world refrigerated constantly from the instant of manufacture until you use it, ensuring absolute freshness and effectiveness.
KoR Whitening is so effective that it is the only recognized system in the world to even whiten tetracycline-stained teeth, previously thought to be impossible.
During the KoR process, nearly all patients experience only low-to-typically-no tooth sensitivity. The KoR procedure is comfortable and 100% safe for your teeth and gums.
How Does the KoR Whitening System Work?
Molds of your teeth will be made in order to have your own unique, ultra comfortable KoR-Seal whitening trays fabricated. A consultation with Dr. Wojtkun or Dr. Sendek will help you to select which level of KoR Whitening is a proper fit for you. Most patients wear their KoR-Seal whitening trays at home for two weeks while they sleep. Depending on the KoR level you select, you may also have one or two simple whitening visits in our office.
KoR-Seal whitening trays are thin and form-fitting. You might even forget they are in your mouth! The trays seal the whitening gel inside the tray, preventing gel from leaking into your mouth.
KoR Whitening whitens teeth dramatically, often lightening your teeth 16 shades or more. Although everyone is different, with the proper KoR Whitening System, all teeth will have stunning results!
"I have been in professional practice for more than 36 years and have tried most all of the tooth whitening systems on my patients over the years, some with moderate success and many with little or minimal success. The KoR Deep Bleaching Tooth Whitening System is by far the most effective and successful tooth whitening system I have ever recommended to my patients.
The technology and physical application theories of this system make sense, are easy to apply, and the results are fantastic. I highly recommend the KoR Deep Bleaching Tooth Whitening System for anyone who wants whiter teeth for the longest possible time."
–Dr. Peter Wojtkun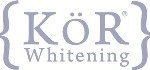 Testimonials from KoR Whitening patients, with before-and-after photos.
Call us today to set up your complimentary consultation!