Cosmetic Dentistry Services
In the past decade, there has been a great deal of interest in cosmetic dentistry.
We all realize that having a healthy, bright, beautiful smile enhances both our appearance and our confidence.
Due to advances in modern cosmetic dentistry, we are able to improve our smiles with quick, painless, and surprisingly affordable treatments.
Cosmetic dental treatments can:
Change the size, shape, and alignment of certain teeth.
Fill in unattractive spaces between teeth.
Improve or correct bites.
Lighten or brighten the color of teeth.
Repair decayed, broken, cracked, or chipped teeth.
Replace missing teeth.
Replace old, unattractive dental restorations.
Remember, your smile speaks before you even say a word!
Find out which cosmetic dental treatments are the best for you:
Dental Bonding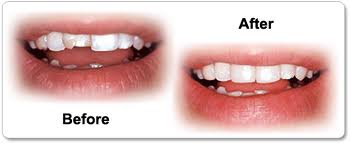 Have you ever noticed that when you see someone with a chipped front tooth or a large gap there, your eye goes directly to the defect? Even when you see them from a bit of a distance, it can catch your eye.
This type of small problem can be easily repaired with dental bonding. This is the simplest, least expensive type of cosmetic dentistry; yet it can change entirely the look of a person's face.
Dental Bonding Can:
Change the size of teeth that are too small compared to adjacent teeth
Change the shape of teeth that are oddly made
Change the color of a tooth, when it is stained more than the others
Repair a chipped tooth
Fill the gap between teeth, so they still appear as two separate teeth, but closer together
Re-contour the whole mouth, as an alternative to placing veneers or crowns
Bonding Materials
Our choice of a composite material and bonding system is Grandio by VOCO. This system provides excellent shade and color matching characteristics, outstanding wear resistance, low shrinkage, excellent color stability, and is easy to handle and sculpt.
We also like Grandio because it has characteristics that make it life-like. It polishes to a translucent shine, similar to real teeth. High biocompatibility means that Grandio gets along fine with your gum tissues, wherever they meet.
Dental Bonding Procedure
Dr. Wojtkun will clean and prepare the teeth involved. The bonding paste is then applied and sculpted to the correct shape. Blue light is used to harden the material, which then can be polished to a tooth-like shine. When you run your tongue over the completed work, it will feel like your natural teeth.
Advantages and Disadvantages
The only real disadvantage is that bonding materials are not as durable as the porcelain used for veneers and crowns.
There is a much longer list of advantages!
The bonding procedure can usually be completed in one appointment.
The services of a separate dental laboratory are not required.
It is a simple procedure, less expensive than the alternatives.
The material blends in with your natural teeth.
Most of your natural tooth is left intact, with very little or no drilling.
Questions about bonding? Call us today: 1-978-475-1030
Tooth Veneers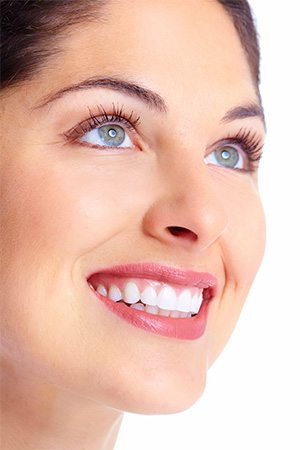 A dental veneer is a thin, durable porcelain shell bonded by your dentist to the front of a tooth that needs a light cosmetic makeover.
Well-made veneers are indistinguishable from natural teeth, with the added benefit that they will not become discolored from coffee, tea, tobacco, berries, or other stain-producing foods. Veneers are also not susceptible to the thinning of enamel that occurs with age on natural tooth surfaces.
When you look at your teeth in the mirror, do you see minor imperfections? If so, the good news is that, with veneers, you can repair these defects, without resorting to crowns (caps). Veneers require much less reduction of teeth than do caps, yet they are custom-made in a dental laboratory specifically to look natural and healthy while blending in with your other teeth. Veneers can give you a new smile.
Veneers for Minor Defects
Certain teeth have discolored areas or stains.
One or more of your teeth have small chips.
Some of your teeth have been worn down.
There is a noticeable gap between your two front teeth, or between other teeth.
Some of your teeth are crooked, but not so much that orthodontics is needed.
Some of your teeth need to be lengthened to go with the adjacent teeth.
Your teeth are generally uneven, in size, shape or color. They just don't go together visually.
Two Types of Veneers
The standard veneer is less than a millimeter in thickness – as little as .5 millimeter. This is about the thickness of a fingernail. Dr. Wojtkun uses IPS e.max and Mirage porcelain for standard veneers.
The other variety is the ultra-thin, no-prep veneer, which is only .3 millimeter thick. Watch a Vivaneers™ Video, to get the idea of how these work.
The Vivaneers™ Difference:
They are razor thin.
No anesthetic is needed and there is no pain.
No drilling is required.
There is very little preparation to reduce the tooth by the thickness of the Vivaneer™.
Home Care of Veneers
Your home dental hygiene will be more important when you have veneers, not less. Remember, only part of your teeth are covered by the veneers; the rest need as much or more care than before. Here are a few tips:
Let Dr. Wojtkun know if there are any spots that are snagging your floss. We can polish that snag.
Use a non-abrasive toothpaste, to avoid dulling the finish of the veneers.
Avoid anything sharp, like pins, coming into contact with your veneers.
Avoid opening things with your teeth.
Do not bite on metal.
Wear an athletic mouth guard for playing sports.
Do not let food stay on your teeth for extended lengths of time, especially carbohydrates. Rinse or brush after eating.
Which Type is for You?
Both styles of veneers are made from durable, life-like porcelain. However, there are differences in the way the two types look, how they are applied, and how they relate to the underlying teeth. Everybody's teeth are different.
See Dr. Wojtkun and the team at Premier Dental Concepts for a free consultation to get some help on deciding which type of veneer is best for you.